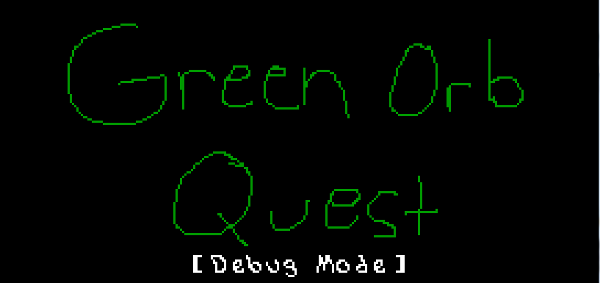 While Oklahoma doesn't have a lot of professional studios dotting the landscape, what it does have is a whole lot of young aspiring developers doing cool stuff. These developers are teaching themselves and working to build a name. One such developer is Robert Holman.
Back in December of 2012, a game development challenge was put forth called One Game A Month. Holman decided to take on that challenge and begin making games. His first, and sadly only game at this time, for the challenge was Green Orb Quest. The game was creating using his knowledge of BYOND and a desire to recreate some of the mechanics of Sean "Squidi" Howard's 300 Mechanics.
Green Orb Quest is a simple game with a lot of fun to be had. The goal is to get through a maze of traps, pits and spikes in order to collect as many green orbs as you can and reach the end. The traps are designed very well and have a way of guiding you through the path you need to travel. I had a lot of fun working my way through the traps and figuring out the patterns. The controls were a little sensitive and I found myself stepping too far and dying.
In the end, I collected every orb, but died 62 times. It took me over 30 minutes to make my way through.
As for Holman, he is currently in between high school and college. He has been teaching himself to program in order to expand his craft. He would rather be able to make games on his own terms than the terms of someone else.
I got into wanting to make games when I was really young, because I always wanted to present the worlds I made up in my head and with my friends to people in an interactive form. I suppose my aspirations are to make games on my own terms that people would like to play, since I'm a bit skeptical about trying to work in the actual games industry.
He wants to explore other development technologies out there as he finds that BYOND, while great at quickly creating a simple multiplayer game is missing a lot of features modern game engines have. He has started teaching himself C++ and Javascript but has yet to decide on any particular engine.
He is also planning on pursuing a degree in Computer Science. While not completely set on a school, he says that he will probably go to SWOSU in Sayre, OK, not too far from his home town of Elk City.
We hope Holman the best of luck with his future game development career and his education. We certainly look forward to learning more about what he get's up to in the future. Green Orb Quest is a fun game and holman certainly has potential.
Download Green Orb Quest.
Follow Robert Holman on Twitter: @Lordovos