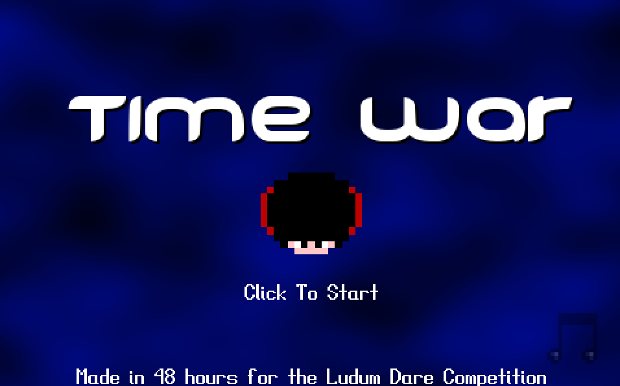 Game Jams happen all over the world on a regular basis. Some big, some small and others span the world by taking advantage of the world wide web. One such game jam is Ludum Dare. This competition/game jam requires potential developers to pick a theme for the competition and then challenges them to build a full game for the competition in 48 hours. Thousands participate and few complete.
Here at Oklahoma Game developers, we are lucky to know of one such finisher of the Ludum Dare 27 Game Jam, Josh Maggard of Lionsteel Games. He took advantage of this game jam to expand on his experience as a game developer and test his mettle as a game developer. His effort was well rewarded. The comments in response to his entry are extremely positive. Pretty much everyone who played it loved it. I loved playing it, although I kind of sucked at it.
We asked Josh some questions about his experience and what others can expect from participating in future game jams. 
OKGD: First of all, would you like to tell everyone a bit about yourself, your game development history etc?
Josh Maggard: I've been developing video games as a hobby since I was 12. I went on to graduate from RSU with a BS in Video Game Development. Since then I've released an Android game and been working on personal projects.
For those who don't know, can you tell us a bit about Ludum Dare, what it is, how you found out about it?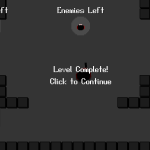 The Ludum Dare is a game jam competition that has gained quite a following. (Around 2200 entries this time) Participants can either compete in the Dare or Jam. Dare competitors have 48 hours, must work solo, create all assets DURING the 48 hours and submit source code of their finished projects. Jam participants can work in teams, get an extra day (72 hours total) and can reuse assets from previous projects.
I found out about LD when a friend asked me to participate with him. I thoroughly enjoyed it and have participated 2 more times since then.
This latest Dare's theme was "10 Seconds", what were your thoughts when that was the final theme? Did you vote for it?
I was actually excited when "10 seconds" was announced. It was one of the few themes I did vote for. I felt 10 seconds could be interpreted a lot of different ways and would produce a lot of good games.
Of the last round of themes up for voting, which ones would you have preferred to have tackled?
Like I said I preferred "10 seconds". I would have also liked "alternate reality" those were the only two I thought I would do well in. Of course, regardless of what the theme was I would have done my best to come up with something. Sometimes I think that it's even better if I get a theme I don't want. Then I'm forced to come up with something extremely unique and creative.
Now this is your third entry in Ludum Dare. How have your experiences changed since that first one?
My first ludum dare was HECTIC. I was in a team of two: one artist and one programmer. We had no idea what we were getting ourselves into. We spent quite a bit of time coming up with our idea and had to cut a lot of planned features in order to get done in the 72 hours.
The second time we competed we had a much better idea of what to do. We knew to come up with an idea fast and be reasonable about scope. However we were still coding and arting right up to the last second.
This latest time I was alone and I feel like I'm finally getting a feel for the competition. I got my idea planned out, got the core game mechanics in ASAP and had plenty of time to add content. I even submitted my game 3 hours before the deadline! Of course my quality suffered both from not having an artist and having less time available.
Tell everyone a bit about the game you created. How did you come up with the idea for it?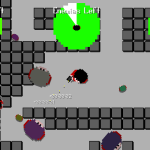 The game I created "Time War" is a top down shooter/puzzle game. You start out with 10 seconds each level to clear all enemies. As the levels become more complex the order in which you kill enemies becomes vital. When coming up with the idea for the game I was just trying to find a unique way to incorporate the 10 second theme.
In the dare, you have to create a complete game from scratch in the 48 hours. What tools did you use to help you do that? Did you have any issues with any of the tools?
I used several tools.
Unity
Futile (2D Unity Framework)
Gimp (Graphics)
SFXR (sound effects)
LMMS (Music)
Normally the week before LD is usually "warm up week" so you create a small game to make sure all your tools work and you won't have any problems. So I didn't really have many problems. Lmms was a last minute choice and I didn't test it out so it gave me issues but nothing to serious.
Are you planning on taking part in future Ludum Dares?
Of course I will take part in as many ludum dares in the future as I can. I always enjoy them and learn a ton.
Would you recommend others take part in game jams like Ludum Dare? What tips would you have for them?
I encourage anybody who wants to develop games either professionally or just as a hobby to take part in any and every game jam they hear about. Game jams like Ludum Dare are a great way to get the creative juices flowing. Also they are a good place to meet people that are as enthusiastic about game development as you.
Tips:
Don't be intimated by the 48 hour time limit. Just aim to finish a game. (A lot of people won't be able to do this)
Stick with what you know. The jam isn't a place to learn a new language.
Once you finish your game, go rate other's games and give them some feedback as they will be doing the same for you.
Really though above all else just participate and have fun. What's important is that you have a good time.
The end.
You can play Josh Maggard's Time War over at Kongregate. Be warned the Unity browser plugin is required, which means those of us who use Linux can't play it. I have also embedded a great time lapse video that Josh put together of his live streamed creation of Time War. It is really incredible to watch.
Follow Josh on Twitter: @MaggardJosh