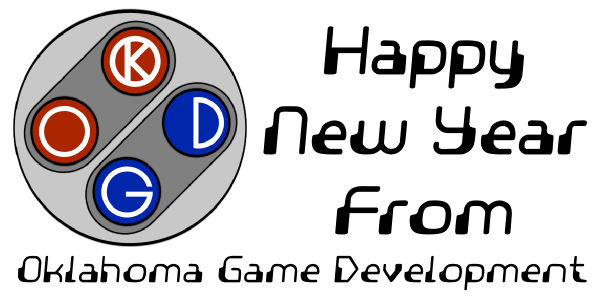 As we look back at the year 2015, We see a lot of great things happening for Oklahoma game developers. We had a number of successful tabletop game Kickstarters and quite a few games hit Steam and other platforms. This year was all about the developers and they games they make. So let's review.
First up, we have the successful Kickstarters, most of which were successful tabletop and card games.
The first success of the year was Prisoner's Dilemma by Aaron Frias. He raised $755 to make possible this card game based on the psychological theory that shares its name. That was followed up by another of Aaron's games, En Passant, a card game based off of chess. It raised $2,596. Next, we have 8-bit Battle by Geym Theori. This 8-bit Zelda inspired card game successfully raised $1,181 to come to life. Our only video game to succeed on Kickstarter this year was Squishy Finger Frenzy by Adrian Rodriquez. It raised a modest $165. Then we had Asphodel by John Trobare. This ghost and horror themed tabletop game raised $2,857. The next tabletop success was We Have Goats by Oliver Smith. This goat wrangling game raised $15,253. By far the largest success of the year for Oklahoma based games was Rivals: Masters of the Deep by Chase Layman. This steampunk ocean battle game raised an amazing $53,157. Finally, we have the pirate themed card game All Hands on Deck by Salamander Games. These guys raise $10,601. We highly recommend checking out these games and picking them up when they are available for public purchase.
While we had only one successful video game Kickstarter, we still had a lot of great video game success stories. Our earliest story is one of a Ludum Dare game jam game becoming a full mobile game release, Beat Bop Beat by Picardy Third. This game was made during Ludum Dare 31 and Ross Pinkstaff felt the need to expand it and release it on Mobile. You should definitely download the game.
Next up we had a great year for games getting accepted on Steam. From Soy Sauce had two games accepted this year, Glass Wing, which got a definitive release, and Spheroid. Both are available to buy right now. We also had Adam Mowery's Curse of the Crescent Isle DX make it to Steam as well. This is a great platformer that is well worth the price. Finally, Dano Kablamo's Gnomes vs Fairies was Greenlit and was put up for sale through Steam's Early Access program. That game is also coming to the Wii U eventually.
Those are the biggest stories of the past year. Yet, we have a bright future ahead of us. We have three major gaming events coming in 2016, the3rd annual Super! Bitcon, the next Heartland Gaming Expo, and the first ever XPO Gaming Convention in Tulsa.
As for what game developers are up to for the new year, we asked them on Twitter for their new year resolutions and had a few great responses.
First up, Divine Knight Gaming (Which is owned by E. Zachary Knight, the owner of Oklahoma Game Developers) writes:
New Years Resolutions: 1) Be more active on social media 2) Work on games at least 1 hour a day 3) release two complete games this year.

— Divine Knight Gaming (@dk_gaming) December 31, 2015
Next we have some personal as well as development related goals from a couple of new faces:
@OKGameDevs get back to learning more Game Maker and working on a little metroidvania game.

— Aremok, The Faceless One (@Aremok_) December 31, 2015
@OKGameDevs Make $1 from a game released this year 🙂

— Brent Roady (@brentroady) December 31, 2015
Next, Tatum Creative has plans for his game library.
@OKGameDevs building Glam, my webgl rendering engine. https://t.co/F5riYOQEqF

— Greg Tatum (@TatumCreative) December 31, 2015
Finally, F5 Games, the makers of House of the Lost and The Hunted, has a whole new game in the works.
I'm very excited for 2016 as it will see the release of our next game, and our first release in over a year! As I mentioned above, this year I am very interested in trying to create a mobile game that has the ability to reach a massive audience but that can also communicate something more to them than just mindless or time-wasting action. To accomplish that we are currently working on a new RPG for mobile that will combine a tactical combat system with a story that I hope will resonate with players and engage them on a level that they don't usually see in a mobile game.
We can't wait to see more of that game.
So with that, we look forward to seeing what else these and all the other great game developers in this state have to show us this year. Happy New Year and may you find the success you are looking for.