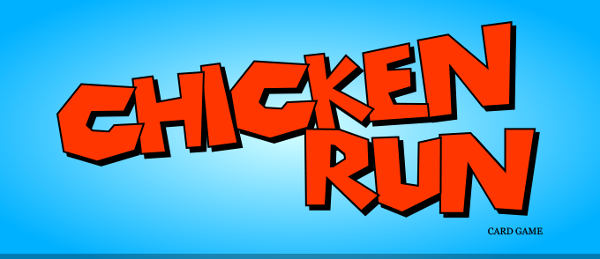 Over on Kickstarter, we have another great game that is on the last few days of its run towards success. Chicken Run, by Pround Games, was successfully funded last week for $5,000 and is still kicking. This game has reached 105 people so far and the designers are looking to reach at least one of their stretch goals by the end of the week.
Chicken Run is a card game for 2-5 players (6 players if the $7,500 stretch goal is reached). It is billed as "a simple collection game that takes strategy,  a little bit of luck, and a whole lot of fun." Here is the full game description:
Here are the facts: There's chickens, roosters, and feed. Each player tries to pair four chickens of the same color along with a rooster and feed to complete a Chicken Run.

The game is fast paced– compete against other players to fill your chicken coops and complete your runs- the first to reach ten points wins. But watch out for action cards though as other players can steal or eat your chickens right from your coop.

While Chicken Run is simple, it is full of energy and excitement that develops as players attack one another with varmints, protect their coops from attacks with guard dogs, and trade with other players for the cards they need to complete a Chicken Run.
Pround Games is founded by four friends, Cameron Frank, Brennan Clark, Josh Campbell, and Bryan Todd who started working on Chicken Run at the beginning of the year. It went through several months of testing and refinement.
For the first few months of 2016, we were in the honeymoon phase of development.  New things were constantly being dreamed up and created for Chicken Run.  The original idea required over 250 cards in a deck, but over time, the gameplay was optimized and we each added our own touches to the game.  After several months of prototyping the game amongst ourselves, we started getting serious about getting copies to sell in storefronts and online.
We are looking forward to seeing more of what Pround Games has in store after their first success with Chicken Run. You can follow Pround on Twitter @ProundGames or on Facebook.