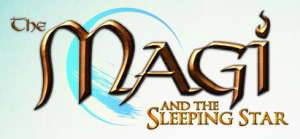 Several years ago, I met Game Equals Life founder Adam Grantham at the first OCCC Game Expo. There he showed me his game in production, The Magi and the Sleeping Star. The game was meant to be a creative way to help children with Diabetes cope with and manage the disease. The game took place in a fantasy setting and the hero had to manage his diabetes in order to keep his fighting potential at its peak.
Sadly, as the years went by, the game project went stale and no new information was made available about it. I am not sure why this was so and I have contacted Adam for information. I am hopeful, based on a recent discovery, that this game project lives on. While doing some research into companies and games in Oklahoma, I discovered that the website for The Magi has been updated.(This is the website as of 2011) This new update reveals that a potential Kickstarter campaign could be coming that could bring this creative game idea to the world.
While there is no real information as of yet, this is an exciting prospect. I hope to hear back from Game Equals Life soon.
Update: I have heard back from Adam. While he doesn't have any direct plans for The Magi as of yet, he is considering Kickstarter and other avenues as a means to revive the game. Additionally, I am informed that Adam no longer lives in Oklahoma. I won't let that stop me from reporting on what I hear though.