Are you interested in match-3 gameplay with a flatulent twist? Then Beakiez is probably the game for you. Developed by indie developers opGames Inc, a world spanning team with lead developer and co-founder Lucas Ellis living here in Oklahoma, Beakiez puts you in the feet of a flatulent chameleon who must rescue his birdie friends who are trapped in bubbles suffocating.
Beakiez holds much in common with many other bubble popping match-3 games but sets itself apart with the clever use of the chameleon's need to replenish his gastrointestinal powers by eating fruit that falls from popped bubbles. If you don't eat enough of this fruit, then you may not be able to rescue your birdie friends and they will suffocate to death.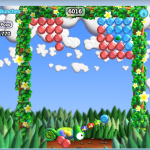 The artwork on the game is very pretty and really shows off the style and feel of the game world. There is also a nice physics mechanic that results in stacks of bubbles swaying back and forth, sometimes making it more difficult to hit those matches just right. Additionally, it is possible to pop groups of falling bubbles if you are looking to challenge yourself.
This clever game plays very well and there is a Demo as well as a fully paid version available on the website above. There is plenty to play in the demo and a lot unlocked with just $9.95. The game is Windows only.
If you are interested in match-3 games and want to support an indie developer, please buy this game.