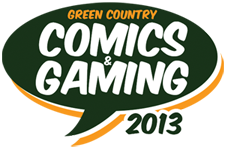 Green Country Comics and Gaming has asked if we would like to put on a panel on game development for the coming October convention. What this is is a panel in which we ask questions of one another and let the audience ask questions of us about what we do, how we do it and how they can get involved. We will also be able to show off the games we are working on as well.
I will be reaching out to a few people over the next week or so and asking those at the next game dev meetup if they would like to participate. I will also be asking for information on what we would like to cover. This is a pretty open opportunity for those of us trying to build a name for ourselves.
Conventions are a great way to connect with fans and build a great reputation with those who would potentially play and purchase your games.
As more information becomes available, we will let you know. In the meantime, if you would like to join the panel or have ideas for topics to be covered, please let me know. Email me at zachary (at) okgamedev (dot) com or use the contact form on this site.