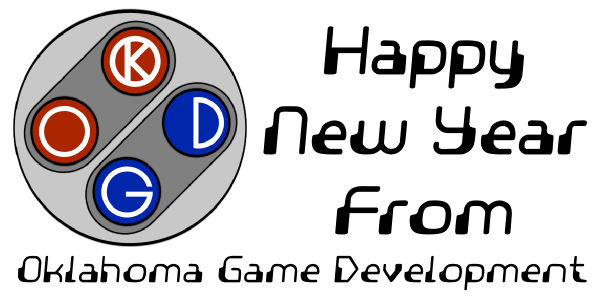 With 2014 in the rearview mirror, we get the chance to look back with great fondness for what was accomplished this year. Oklahoma game developers have made great strides and impressive games this year and there is even more on the horizon. So let us look back at some of what we have seen.
Starting with Oklahoma's own poster studio for success, we have Goldfire Studios. This year, they officially launched Casino RPG and have since made many improvements. The founders, James Simpson and Luke Simkins, have also been in the media setting a great example for what good developers can do for others.
Let us not forget Oklahoma's oldest game development studio, Bonozo Apps. This year they started up The Tulsa Game Masters, a meetup for Tulsa Game Developers to get together and build their craft. They have also done a couple of game development panels this year. They were at Super! Bitcon along with Goldfire. They also organized the Wizard Comic Con Game Panel. These guys are also a core part of putting the upcoming XPO Gaming Convention together.
From the studio I feel is Oklahoma's most promising young talent, From Soy Sauce has had two game launches this year and one great new game under development. After failing to fully fund Spheroid last year, they still launched a complete and fun game. Then, in just one month, they created an excellent platforming adventure Glass Wing. Following on that success, they began work on their next game Touhou Super Smash Battles. With these combined successes, they have also become the first Oklahoma game developer to become an official Wii U developer.
As for other game releases, we have seen quite a few. F5 Games became the first Oklahoma Ouya developer with its launch of House of the Lost on the system. Then they released a great twin stick shooter for the iPhone, The Hunted. Winter Stories also launched its endless runner Run, Frosty, Run. Finally, Adam Mowery launched a new platformer, Blue Beacon.
Game releases like that are not the only place we saw great gaming. Oklahoma also has quite a few active game jammers. Josh Maggard is a regular participant in Ludum Dare and released Space Driller and Now You See Me this year. Additionally, Oklahoma was host to a part of the Global Game Jam with some interesting and fun games. We also had two contenders in the most recent Ludum Dare with Critical Code's Gorilla Rampage and Picardy Third's Beat Bop Delicious. Finally, Divine Knight Gaming (Disclaimer, E. Zachary Knight is the owner of Divine Knight and Oklahoma Game Development) attempted one game a month, completing 6 games for the year.
In other news, we saw the first Super! Bit Con organized and hosted by the Oklahoma Retro Gamer Society. This event was so successful, they will be holding their second one in 2015. PL Studios, the creators of the Digital Tutors video training site, was bought by PluralSight for an astounding $45 million. And Oklahoma Christian University was ranked among the best game design schools in the nation.
As for us at Oklahoma Game Development, we went through a bit of rebranding. We started off as Oklahoma Game Developers, but felt that particular name was doing much better as the name of the Monthly Meetup group hosted by Goldfire and wanted to take a step aside and let them use it. We also took the time to put together an official disclosure policy to build greater trust in our site and reporting.
We cannot be sure what will happen in the coming year. What we do know is that there are a number of great looking games under development that will see a 2015 release. We look forward to the next Super! Bit Con and the new entry of the XPO Gaming Convention. We look forward to seeing and reporting on all these and more.