Ludum Dare is always a fun experiment in creative game design. This past Ludum Dare was especially fun with the theme being "unconventional weapon." There were a lot of great ideas pouring out of the event with a number of great games coming from Oklahoma.
There was one developer who took an extra challenge on top of the normal challenge of the game jam, by helping his son make a game too. While they didn't make a single game together, they did make separate games during the jam.
First up is Ross Pinkstaff, of Picardy Third, and his game Thank Guugle. Of all the games I have played from this jam, this is the one I think best meets the theme of unconventional weapon. In this game, aliens are invading Earth and it is up to the human race to hack into the aliens' favorite search engine to sabotage their ability to fix problems on their ships.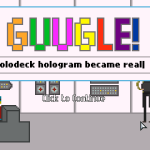 The game has only a handful of puzzles but they are all well animated and clever in their design. The completed project reminds me a lot of McPixel in its execution of the overall design.
Overall, the game is fun and creative. You won't find any replay value in it, but it is fun the first time through. So give it a play through.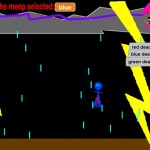 While Ross was making that game, his son was building a great first attempt at a jam game. Save the Meeps puts the player into the role of protecting three Meeps from being struck by lightning.
The game is played by selecting the Meeps using the number keys and using the mouse to move them from the path of lightning. The longer you keep your Meeps alive, the more points you score.
For a first attempt at game development under such a deadline, this is a great first run. We hope that he keeps up the work and continues to improve his craft.
We will have more games from Ludum Dare over the course of this week for you. Keep an eye out.