Last time we left Totally Awesome Games, they had ended their campaign to fund Duel of Heroes unsuccessfully. That was more than a year ago. Since then, we haven't heard much.
Just a few weeks ago, they launched a Facebook page launching one of their latest games, Hipster Animal Flip. HAF is a mobile game that has the potential to eat much of your time.
HAF is a really simple game. You have two pairs of animals, a pig and a fox, and falling dots. As the dots fall, you must flip the pairs of animals to match the color dots to the proper animal. That is it. This game is very simple to play but very difficult to master.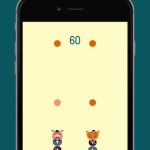 One of the great things about HAF is its music. It has a really catchy song that I find myself humming for a long while after each play session. It really puts you in the mood when you play the game.
As for the art, for how simple the game is, what little art there is has a lot of character. The fox and pig both look great.
HAF is free to download on iTunes and is going to be available on Android devices soon. It also offers a single IAP to remove ads for $0.99.
If you are interested, you can also try out TAG's other iTunes game Giant Furry Balls.