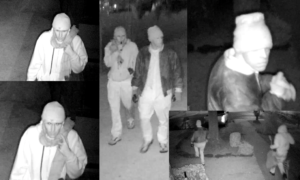 UPDATE: One of the men who broke into Prismic Studios has been arrested and is awaiting trial. In addition, the stolen guitars have been found and will be returned to owner Dano after the conclusion of the trial.
Thank you everyone for your support, kind words, and sharing our posts. The police now have the names of both the burglars, and found both the guitars!! They will have to sit in the evidence room for up to an year, so they won't be coming back to us anytime soon, but we are very happy the guitars were found and are in a safe place.

The security upgrade is done, and now we can monitor the studio from our cellphone!!

Through this potentially terrible incident we were able to feel the community's love and come out even stronger than before! Thank you so much!!!
Original post: Earlier this week, Prismic Studios was broken into by two men. These two stole a Martin acoustic guitar and a German made Warwick Bass among other items. In a comment made on their official Facebook page, they wrote the following:
Do you recognize these two people? They broke into our studio two nights ago and stole my guitars and more!!
Share with your friends in Okc, please!
We teach kids how to play music here because we want to make the world a better place, but unfortunately scumbags sometimes come along and try to ruin our happiness, but if we stick together, they can't!!
So please, If you have any information please contact the Oklahoma City Police Department!!
Thank you!
Leave a Comment