I am a little late getting to this one, but I have news of a great game for all you Android Tablet owners out there. LionSteel Games is a developer duo of Josh Maggard and Denver Poteet. Both are graduates of Rogers State University. Their first Android game is Tiles, a head to head game for two players.
I had some first hand experience with the game back in March at the first Game Developer Meetup, and I think that the game is a lot of fun. Below, you can see some footage of the game being played. In it, two players face each other across the tablet. Each player has a set of tiles, which can take the form of buttons, children's blocks and several other styles. Between the two players is a set of empty squares in which tiles show up during play. The goal is to out match your opponent. As tiles show up between the players, they race to touch the corresponding tile on their side. The player to out match their opponent in the winner.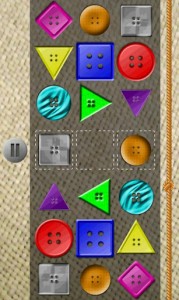 There are some really clever elements in the game too. Rather than keep some kind of numerical scoring, the game instead uses a rope with a knot in it. The knot starts in the middle of the tablet and as players out match their opponent, the knot moves closer to the fastest player. This element provides a visual scoring element without overloading the players with numbers. It also provides a very competitive element as people are working hard in a mental game of tug of war.
While the game is designed with multiplayer as its core focus, it still offers some compelling single player in the practice arena. This takes form of a casual mode in which you just play and play and two different time trials. The first is a best in 30 seconds mode. You have thirty seconds to match as many tiles as possible. The second has you trying to match 50 tiles as fast as you can. These last two modes are really going to help when you go up against another player.
The game itself is free to download and play from the Google Play store. The game offers alternative tile sets that you can purchase and install. This is a nice no pressure method of allowing for in app purchases. There are some great looking tile sets in there. So send LionSteel  some money if you feel inclined and support some great developers. I look forward to seeing more from these great guys.