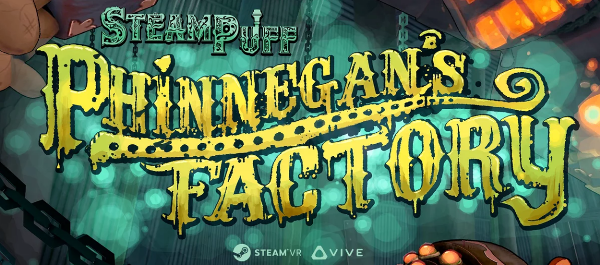 Over the weekend, Steelehouse Productions announced Phinnegan's Factory an HTV Vive VR game being developed by Steelehouse subsidiary Mister Anderson. Phinnegan's will be launching on Steam Early Access later this summer with planned updates for Fall and Winter this year as well.
Phinnegan's Factory is a Steampunk action shooter in which you explore an abandoned factory.
Something sinister smolders in the abandoned district of the Sky High City of Steampuff. Acrid smoke billows from the long dormant chimneys at Phinnegan Tentacle's shuttered factory. Strange smells and sounds float down from the crooked clock tower, fueling wild rumors and fear among the citizens. Someone has to get in there and find out what's happening –apparently that someone is you.
Phinnegan's Factory is based on an animation series developed by Steelehouse in 2012 called The Sky High City of Steampuff. Steelehouse had attempted a Kickstarter campaign in 2015 to expand this animation but the funding was unsuccessful. With the excitement of VR, Steelehouse decided to return to the world of Steampuff as the setting for their first original VR game.
With the announcement of the new game, they launched a trailer, embedded below, that brings this world and game to life. While the game is not yet available on Steam Early Access, it will be launching soon. To make sure you get the latest updates, you can follow Steelehouse on Twitter and Phinnegan's Factory on Facebook.