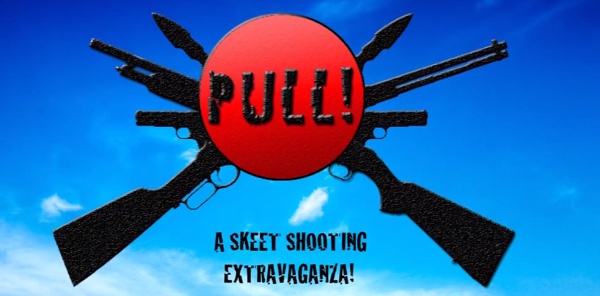 Winter Stories Studio is a young up and coming game development studio here in Oklahoma. They have already created and released two games for mobile devices. They are currently working on their third game as you read this. I had recently met one of the game developers behind this studio and decided to take a closer look at one of their games.
Pull! is a skeet shooting game that is available for Android devices. It comes in two versions, a free ad supported version, which is the one I played, and an ad-free version for $0.99. Both version are the same except for the ads. The ads in the free version are minimal and not really intrusive. So don't worry about that.
The game is pretty simple. You pick your target, which range from clay pigeons to watermelons, select your range and then start shooting. You simply push the "pull" button, (that may seem like a non sequitur but when at a shooting range, you yell "Pull" to give the signal for the operator to launch a pigeon) and touch the screen to shoot the launched object. When your ammo gets low, you simply touch the reload button.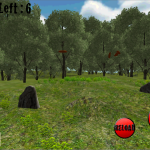 Honestly, there is not a lot of challenge in the game unless you make it a challenge. When played normally, you will rarely miss. Even with the addition of other game modes which launch more than one object with a single push of the "pull" button, you will find yourself rarely missing. To counteract this, I found myself touching the "pull" button multiple times to give myself an additional challenge.
Of course, the game also features a target that ramps up the difficulty considerably. This target is the last to be unlocked. It is extremely fast, relatively small, and difficult to see. This is where you will likely find yourself missing on a regular basis. It is also where you will spend most of your time looking for a challenge.
The two primary gameplay modes are a target limited course and a time limited course. They both play the same except that in the target limited course, you have unlimited time to shoot and in the time limited course, you have unlimited targets. As you advance in the game, you can unlock variations of these modes with additional targets with a single touch of the "pull" button.
Finally, the game keeps track of your overall stats. At the end of each play session, you are shown the stats for that session, but the game also has a running total of all targets hits, your shots fired and your accuracy rate. This can be seen from the main menu.
One final note. I did notice a bug in the game that, while not breaking the game, did frustrate me. In courses with multiple targets launched, the game would sometimes prevent me from firing a shot to hit the last target on the course. I don't know if this is an issue with the paid version, but it did occur on a frequent basis on the free version.
Overall, the game is a fun diversion, but once you unlock all the courses and targets, you may find yourself playing it less and less. But for $0.99 it is worth the amount of time you will spend playing it.