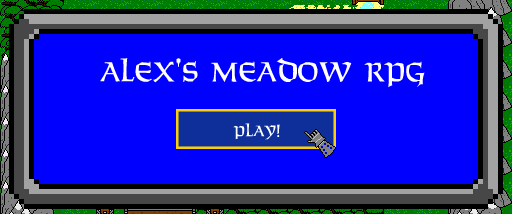 Divine Knight has been working on a one game a month challenge this year. So far, they have successfully completed a game every month, except the month of May. For their June game, they decided to tackle a really ambitious project, an RPG. The result is Alex's Meadow RPG.
While it is not a full fledged RPG, there is no leveling or stats to build, it still plays like one as it has turn based combat, and a fantasy setting. The game features four playable character classes each with its own ability to help you as you fight the various monsters in the game.
The most unique aspect of this entry is the fact that the lead developer's son, Alex, designed the world in which the game takes place.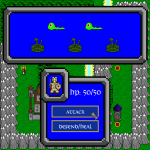 But enough about that, let's talk the game as it is. As you may know from earlier blog posts, this game was based off a level that my son designed. It was really fun watching how excited he was to create the level and then to actually see it turn into a game.
The game is a wee bit on the difficult side and could use a lot more polish, which is something that Divine Knight recognizes as a flaw.
There are still a few things that I need to work out with the game. For starters, it still seems rather difficult. I tried playing as a Sorcerer but I kept dying toward the end. This is something that I am going to have to continually work at to make it right. But for now, the easiest class to play as is the Paladin.

One thing I had to do to compensate for this difficulty was add a "miss" chance for the enemies. There is a one in four chance that their attack will miss. Another thing I added was a one in four chance the player will have a critical hit, doing double damage. This has helped the difficulty a bit, but it is still pretty tough.
Regardless of the final result, one thing is clear. Divine Knight gaming has come a long way from their first couple of One Game challenges. We certainly hope to see what else they have in store this year.
Full Disclosure: I am Zachary Knight, the lead developer and co-founder of Divine Knight Gaming.