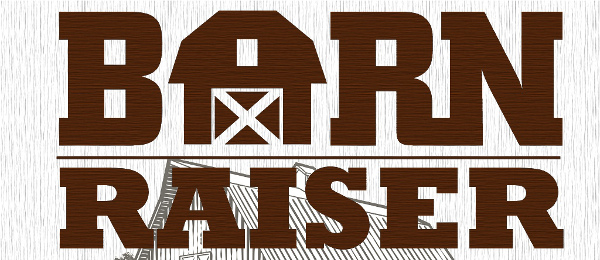 For quite some time, Aaron Frias has been making custom card games and launching them on Kickstarter. He has done it under his own name, Geym Theori, and now Bow Tie Games. He has had a number of successful game campaigns and is now putting that track record to do some good for the community.
His latest Kickstarter is for a new game called Barn Raiser. This is a cooperative game in which players work together to build a barn. They do this by trading cards with one another in order to complete the required combinations of cards to place a piece of the barn. The game is over when all barn pieces have been played.
What sets this particular Kickstarter apart from his usual campaigns is the end goal itself, to help a local family build a new barn on their land.
Barn Raiser was a game that we created with a specific goal in mind.  We wanted to create a fun and unique card drafting game to help raise money for a local family that is building out a barn on their property that will serve to benefit the community.
And how will this benefit the community?
This family could use the barn to help those in need of shelter, be a venue for community events, host worship groups and be used as a music studio for faith-based recordings.  We want to do our part to help them raise the money they need to make this dream possible.
This is certainly a novel way of running a Kickstarter. As for how the Kickstarter will be used to fund the barn, the rewards state that all profits from the campaign will go directly to the family's barn.
We will be keeping an eye on this campaign and will inform you of any updates. If you feel this is a worthy cause, you can support Barn Raiser and get a print and play copy for $5, or you can get a pre-printed version with free US shipping for $15.